Breakfast & After School Clubs
At Mary Exton we have two clubs which are run on site, and other clubs which collect from Mary Exton to provide wrap around care for our pupils.
Breakfast Club

Small Stars runs our sports Breakfast club. It starts at 7.45am until the start of the school day. The club is based in the school hall and dining room. Alongside a wide variety of activities, the children are provided with a healthy breakfast. The club aims to provide sporting activities that will stimulate the children's minds and prepare them for a successful day of learning.
For further information and to book a place, please contact Mr Taylor.
Email: small-stars@hotmail.co.uk
Mobile: 07943 549640
Rising Stars Wrap-Around Care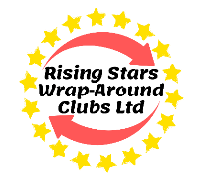 Rising Stars run our After School Club which is based in the school hall and dining room. Each day there are sports activities organised for the children attending the club. If they wish to participate in the sports activities then they can do, if not then there are other play options available.
Monday - Trampolining
Tuesday - Multi-activity
Wednesday - Gymnastics
Thursday - Net and Wall Games
Friday - Multi-Activity

If you wish to register your child with us then please use the link below.
https://risingstars.magicbooking.co.uk/
If you have any queries, then please do email: info@risingstars-wraparound.co.uk